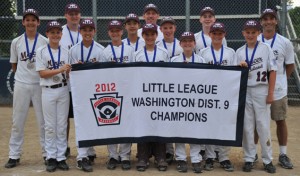 In a battle that went all the way to the 6th inning. Mercer Island outlasted a very tough Bellevue West team 5 – 3 to advance to the Washington State Little League Tournament in Walla Walla beinging Saturday July 21, 2012.
You can follow the tournament on the Washington state Little League web site or on the State Little League Bracket.
Good Luck Mercer Island – District 9 is cheering for you!!!